Out of 29 diversified utilities, Public Service Enterprise Group (NYSE:PEG) is the 3rd largest. It has a very high PE – 47.47 (which I'll explain below). This makes it the 6th most expensive in the diversified utility sector. The forward PE of 15.69 is far more reasonable (this makes it the 8th cheapest). The company has the 10th highest dividend in the sector.
Like most other utilities, the stock has had a difficult quarter and month; it's down 6.01% and 3.30%, respectively. This is part and parcel of the rest of this industry.

PEG is divided into two segments.
1.) PSE&G is responsible for power transmission and distribution. It has 2.2 million customers across NJ.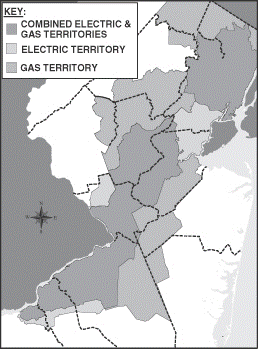 2.) Power holds the generating facilities (obviously), most of which are located in NJ: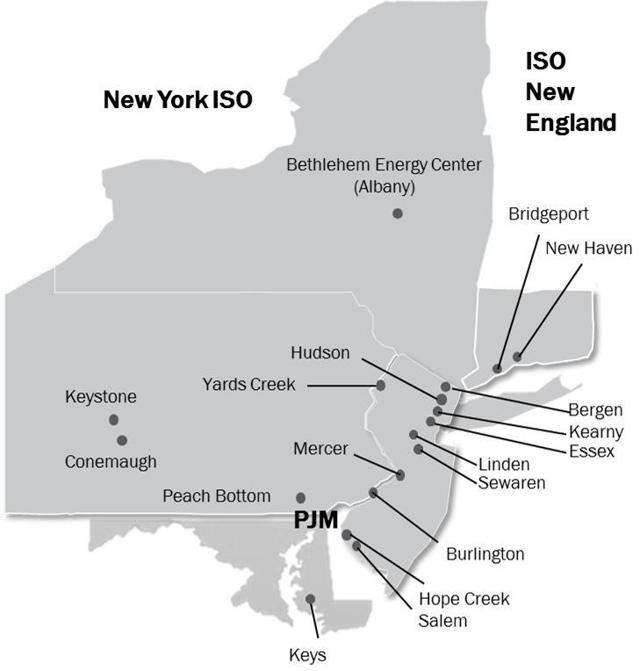 The company uses nuclear, coal and natural gas for power generation.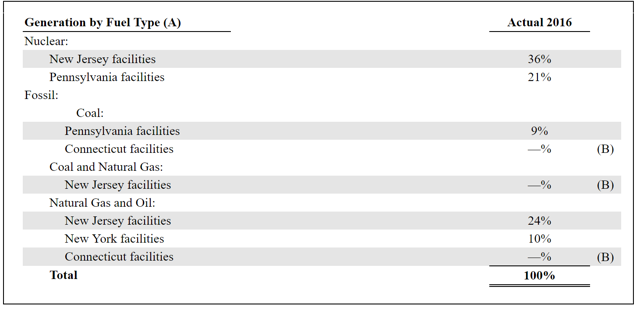 The company has a weighted average cost of capital of 2.56%; FERC has allowed the company to use an ROE return assumption of between 10.3% and 11.1%.
Let's turn to the financials, starting with the relevant information from the income statement (data from Morningstar; author's calculations):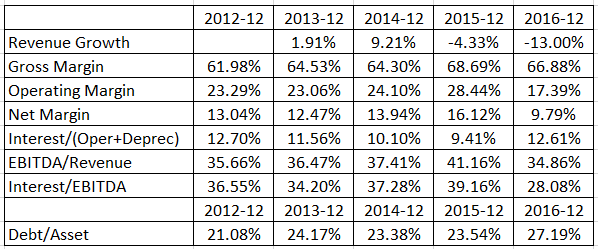 This is a decidedly mixed statement. On the plus side, we have a very positive interest and debt picture. EBITDA/gross margin has returned to 2012 levels and interest/EBITDA has declined. But the company has taken two hits to revenue. There were losses related to Superstorm Sandy and an overall decline in demand. Some of the loss, however, is related to a one-time event: closing two plants with 1,838 MW of generating capacity. These were coal plants which are now uncompetitive compared to natural gas generation (Pennsylvania which is right next door produces a large amount). The company wrote this in its latest 10-Q regarding the accounting impact:
As of June 1, 2017, Power recognized total D&A of $964 million for the Hudson and Mercer units to reflect the end of their economic useful lives in 2017. In the three and nine months ended September 30, 2017, Power recognized pre-tax charges in Energy Costs of $1 million and $10 million, respectively, primarily for coal inventory lower of cost or market adjustments. For the three and nine months ended September 30, 2017, Power also recognized pre-tax charges in O&M of $8 million and $12 million, respectively, of shut down costs and an increase in the Asset Retirement Obligation due to settlements and changes in cash flow estimates, partially offset by changes in employee-related severance costs.
The low FPE shows that the write-down is almost over. The company has several other plants that use natural gas instead of coal under various stages of construction which will help to control costs going forward.
Finally, we have the relevant numbers from the cash flow statement:

Dividend investors will like that, even when the company took a major loss, it still paid its dividend from existing earnings. And while it's issued debt, it has done so conservatively (refer back to the balance sheet discussion with the low debt/asset ratio).
Finally, the stock has recently rebounded from its 200-day moving average and is moving higher.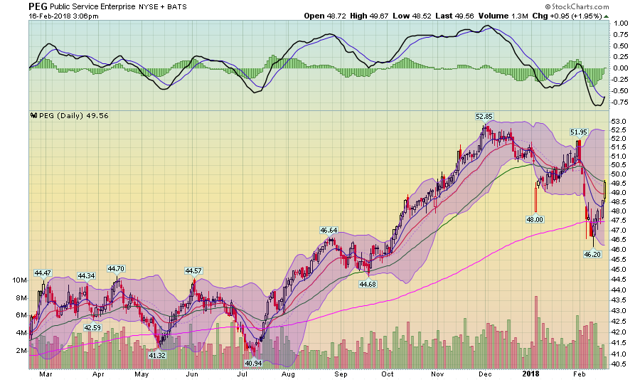 The accounting issues related to plant closures should be over soon. Once done, PEG's earnings will return to more normal levels. Despite the high current PE, the forward valuation is attractive as is the dividend. This is a stock to consider.
This post is not an offer to buy or sell this security. It is also not specific investment advice for a recommendation for any specific person. Please see our disclaimer for additional information.
Disclosure: I/we have no positions in any stocks mentioned, and no plans to initiate any positions within the next 72 hours.
I wrote this article myself, and it expresses my own opinions. I am not receiving compensation for it (other than from Seeking Alpha). I have no business relationship with any company whose stock is mentioned in this article.
Related Posts: