Ford Motor (F) released weaker-than-expected U.S. sales for the month of September on Tuesday that are likely going to continue to weigh on already sour investor sentiment. The tariff tit-for-tat between the United States and China also isn't resolved just yet, meaning the special dividend the company used to pay in the last three years could get scrapped. In the absence of a major, positive catalyst for Ford Motor's share price, the base dividend is about the only reason why investors may want to stay invested here. An investment in Ford Motor yields 6.5 percent.
Not A Good Year For Ford Motor
The escalating trade conflict between the United States and China has already taken a big toll on U.S. auto companies. Ford Motor's share price, for instance, plunged 25.5 percent year-to-date as the tariff conflict between the two largest economies in the world heated up. In comparison, General Motors' (NYSE:GM) share price has dropped 18.8 percent in 2018.
Importantly, Ford Motor's shares once again fell to a new 52-week low last week @$9.09, indicating that investors remain fearful of a continued escalation of the trade conflict. In my article "Ford Motor Is A Single-Digit Stock: What Should Investors Do Now?" I said that the reduced adjusted EPS guidance for 2018 was also weighing on investor sentiment (Ford Motor revised its adj. EPS guidance down ~11 percent from a midpoint of $1.58/share to $1.40/share).
2018, at least so far, has not been a good year for Ford Motor.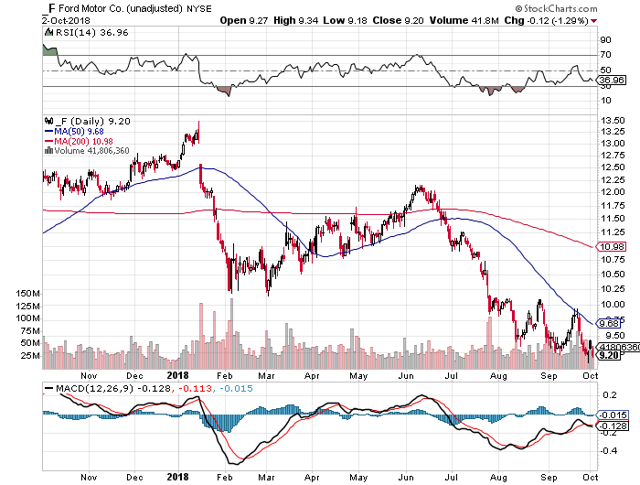 Source: StockCharts
Ford Motor's U.S. Sales In September
Ford Motor's shares closed down 1.29 percent yesterday after the company released weaker-than-expected U.S. sales for the month of September.
According to Ford Motor's September sales update, the auto company sold 197,404 vehicles last month, marking an 11.2 percent decrease compared to last year when Ford Motor sold 222,248 vehicles. Retail sales also showed some weakness, dropping 12.6 percent to 148,233 vehicles while fleet sales slumped 6.7 percent to 49,171 sales. The consensus estimate was for about a ten percent decline in sales compared to last year.
The reason for the year-over-year decline in sales was that September 2017 sales rebounded after Hurricane Harvey hit the United States last year, thereby inflating sales numbers. Hence, the year-over-year drop is nothing to worry about in my opinion, especially since General Motors also reported a big drop in sales.
Year-to-date, Ford Motor has sold 1,887,625 vehicles which compares against sales of 1,933,459 vehicles in the first nine months of last year, reflecting a decrease of just 2.4 percent.
Say Goodbye To The Special Dividend
Ford Motor has paid three special dividends in the last three years as sales and cash flow remained robust (Q1-2016: $0.25/share, Q1-2017: $0.05/share, Q1-2018: $0.13/share). Though I don't expect Ford Motor to adjust its base dividend, I think chances are that management will not declare a special dividend in Q1-2019 in light of extreme uncertainty in the sector.
Ford Motor Still Dirt Cheap
Ford Motor's shares are extremely cheap, which is a reflection of growing investor concerns about the company's prospects for growth in an environment of rising protectionism and populism.
Both General Motors and Ford Motor are dirt cheap right now. Ford Motor's shares, for instance, sell for less than seven times next year's estimated profits.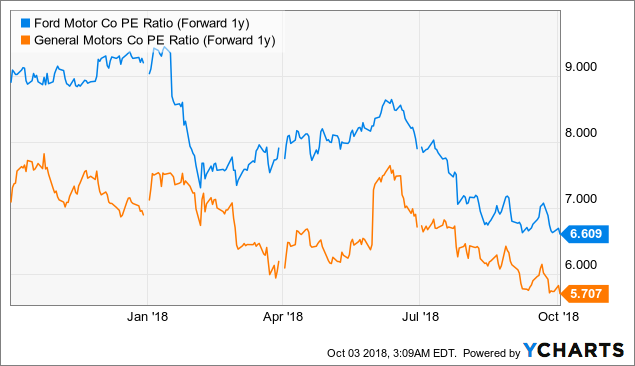 Your Takeaway
Ford Motor has been weighed down by the escalating trade conflict between the United States and China, which shows no signs of easing at the moment. Ford Motor already reduced its 2018 EPS guidance as a result, but the company could be forced to revise its earnings guidance down further in case both countries continue the saber rattling.
September sales were not great, but also not as bad as they looked because they are compared against inflated sales numbers a year ago. Given the political and macro challenges Ford Motor faces, I think management will decide against paying a special dividend next quarter. Unless Ford Motor slashes its base dividend, I am staying the course.
If you like to read more of my articles, and like to be kept up to date with the companies I cover, I kindly ask you that you scroll to the top of this page and click 'follow'. I am largely investing in dividend paying stocks, but also venture out occasionally and cover special situations that offer appealing reward-to-risk ratios and have potential for significant capital appreciation. Above all, my immediate investment goal is to achieve financial independence.
Disclosure: I am/we are long F, GM.
I wrote this article myself, and it expresses my own opinions. I am not receiving compensation for it (other than from Seeking Alpha). I have no business relationship with any company whose stock is mentioned in this article.