We missed the upside surge on Omega Healthcare Investors (OHI) since we last wrote about the stock in March 2018. The stock is up over 20% since we suggested that there was still too much uncertainty within its operator ranks. While the stock has been up, however, the operator woes remain unresolved. I continue to suggest staying away and yes, hindsight being 20/20, it was a bad call earlier this year. No matter, I drive by looking out my front windshield not my rear view mirror and there are still some ominous clouds on the horizon. Whether those clouds turn into a thunderstorm I don't know – neither does anyone else for that matter. But just like I found other opportunities that have performed well, like Innovative Industrial Properties (IIPR), which was up 40% last month, I'll find other opportunities in lieu of this one. In other words, no regrets missing out on a 20% spike – I still think it was the right decision at the time and believe it is a Sell at these levels.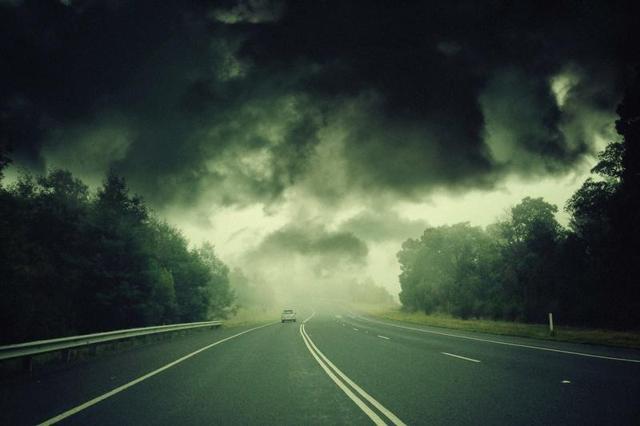 ID 43069464 © Tamara Bauer | Dreamstime.com
The Operator Saga Continues
Omega Healthcare Investors is one of the prominent REITs in the healthcare sub-sector that has provided great returns for investors over the long term. However, the company's stock price has seen a decline over the past few years as the healthcare REIT sector has been affected by changing government reimbursement policies and the weakening fundamentals of the overall sector. The skilled-nursing subsector, Omega's primary focus domain, remains prone to policy-related risks even though it has the potential to generate better-than-expected revenues.
The business pressures on the sector have increased ever since the Centers for Medicare & Medicaid Services (CMS) have stipulated value-based incentive programs for skilled nursing facilities (SNF). Under this program, the incentives received by SNFs will be based on the quality, rather than the quantity, of care they give to patients. This means that the federal agency will be evaluating an SNF on the basis of a hospital's measure that is linked to a patient's readmission within 30 days of the SNF stay.
Average stays have been in decline as Medicare Advantage has become a more popular coverage. The average stay for Medicare Advantage patients is 20.5 days, 12% fewer than Medicare patients.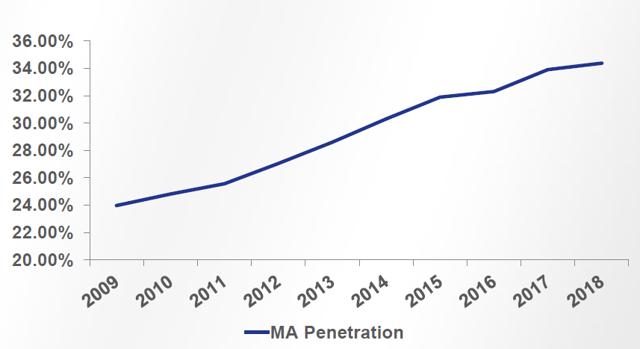 Source: Omega Investor Presentation, May 2018
The new regulations require SNFs to incur additional expenses related to staff training, infection prevention and control programs, discharge planning, and other services, which obviously puts pressure on margins, profits, and funds from operations. The chart below shows the difficulties being faced by some of the operators and their effect on OHI.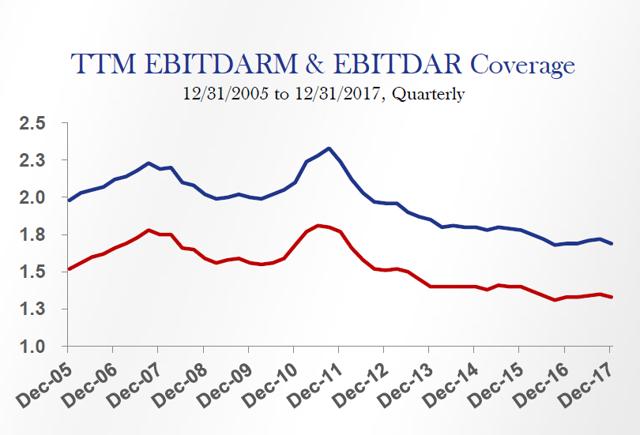 Source: Omega Investor Presentation, May 2018
Being exposed to intense business pressures, SNFs have become more susceptible to bankruptcies and the regulatory environment has clearly affected OHI, not to mention declines in occupancy.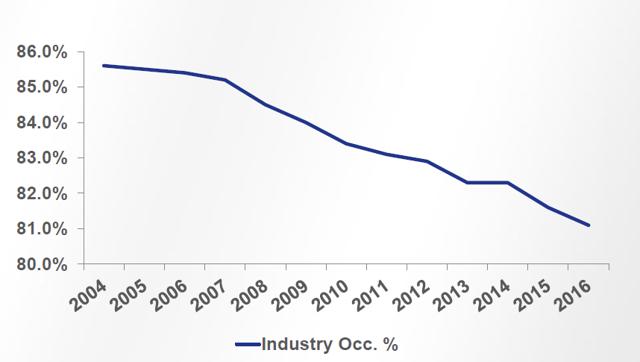 Source: Omega Investor Presentation, May 2018
OHI recently suffered a setback when Orianna, one of its major tenants, initiated voluntary Chapter 11 proceedings in the U.S. Bankruptcy Court after it fell behind on its rent payments. Back in 2013, OHI had acquired 55 SNFs and 1 ALF (Assisted Living Facility) operated by New Ark Investment Inc. and leased the facilities back to New Ark which does business as Orianna Health Systems. As of June 30, 2018, the 38 facilities remaining under OHI's direct financing leases with Orianna were predominantly located in seven states in the southeastern U.S. (37 facilities) and Indiana (1 facility). OHI's recorded investment in these direct financing leases, net of the $172.2 million allowance, amounted to $337.7 million as of June 30, 2018. Additionally, four facilities owned by OHI are leased to Orianna under a master lease which expires in 2026. The leaseback transaction was accounted as a direct financing lease with rental payments yielding 10.6% per annum over the 50-year term of four master leases.
As of December 31, 2016, Orianna was OHI's second largest operator operating 59 facilities across the USA. At that time, OHI's investment in the Orianna facilities represented nearly 7% of its overall investment portfolio, with a gross investment of over $619 million. In 2016 and early 2017, Orianna began to experience a number of operational pressures that affected its profitability and its ability to pay timely rent to OHI. OHI neither recognized any direct financing lease income nor realized operating lease income from Orianna for the period from July 1, 2017, through June 30, 2018. Orianna has not paid the contractual amounts due and collectability is still uncertain. OHI has been handling the Orianna account on a cash basis ever since Orianna fell behind on its rent payments in Q3 2017. On March 6, 2018, Orianna filed for Chapter 11 bankruptcy protection to begin a comprehensive financial restructuring plan.
Since the filing of Orianna's bankruptcy protection, OHI has been making attempts to protect shareholder value. OHI entered into a Restructuring Support Agreement (RSA) with Orianna to execute a restructuring plan that involved transitioning 23 of the 42 Omega owned facilities to new operators and the potential sale of the remaining 19 facilities. The RSA established a specific timeline for the planned restructuring and it also provided the recommencement of partial rent payments at $1 million per month. In May 2018, a federal bankruptcy court approved the RSA and the payments were prorated for March 2018.
Additionally, OHI extended up to $30 million in debtor-in-possession (DIP) financing to Orianna for liquidity purposes. The DIP financing was also approved by the bankruptcy court and it was to be used to repay in full Orianna's current working capital lenders and to provide Orianna with additional liquidity for on-going business operations. OHI's DIP financing comprises of a $14.2 million term loan and a $15.8 million revolving credit facility. Both of these were secured by a security interest in and liens on almost all of Orianna's present and future personal and real property. The $14.2 million term loan bears interest at 1-month LIBOR plus 5.5% per annum and the full amount of the term loan will be used to repay Orianna's previous secured working capital lender. The term loan matures on September 30, 2018, and approximately $14.2 million was outstanding on this term loan as on June 30, 2018. The $15.8 million revolving credit facility bears interest at 1-month LIBOR plus 9.0% per annum and the borrowings are to be used for general business expenses and other uses as stipulated in loan documents. The loan matures on September 30, 2018, and approximately $10.5 million is outstanding on this credit facility as of June 30, 2018.
When Orianna defaulted under the DIP facility, OHI terminated the DIP facility July 23, 2018, and declared that the amounts owing under the DIP facility are immediately due and payable. Citing its frustration with the restructuring process, OHI also terminated the RSA on July 25, 2018. While pulling out of the agreement, the REIT also stressed its concern to protect the interests of its shareholders. While speaking about the company's decision to terminate the agreement, Taylor Pickett, Omega's CEO, indicated that the previously announced transfers will remain on track. In a statement made at the Q2 2018 earnings conference call, Mr. Pickett stated:
The company will be considering and/or pursuing alternative courses of action to protect our assets and shareholder value. We continue to believe that final resolution will result in our previously stated range of $32 million to $38 million of rent or rent equivalents from the assets that constituted our Orianna portfolio.
As of June 30, 2018, OHI's total investments outstanding with Orianna was approximately $40.0 million. This also includes $15.2 million outstanding on a working capital loan that was provided to Orianna in May 2017 and which matures on April 30, 2022. In accordance with the Bankruptcy Court's interim order approving the DIP financing, Orianna is required to pay half of all accrued post-bankruptcy interest payable on the revolving working capital loan at a rate of 5% per annum.
On July 1, 2018, OHI transferred 13 Orianna facilities in Mississippi to an existing Omega operator with annual contractual rent of $12 million. Recently, on August 1, 2018, OHI transferred an Orianna facility in Indiana to an existing operator with annual contractual rent of $0.5 million. The July 1 transaction along with $5 million of additional transfers over the course of the next few months have mitigated the overall risk posed to OHI due to the Orianna bankruptcy. Referring to the July 1 transaction that involved the transitioning of Orianna's Mississippi portfolio to an existing Omega tenant, Taylor Pickett pointed out that the transfer would bring in $12 million in annual rents; hence, the termination of the restructuring agreement will not affect OHI in an adverse way.
Besides Orianna, OHI has also faced trouble from other operators over the last 18 months. Previously, the REIT had to enter into a restructuring agreement with Signature HealthCARE when the operator had fallen $25 million behind on its rent. Under the terms of the agreement, OHI provided $25 million in working capital financing to the operator in addition to rent deferments and annual funding for capital expenditures. Preferred Care, another major tenant of OHI, had also filed for chapter 11 bankruptcy in Q4 2017 thereby affecting the OHI's profitability and prospects of dividend growth. In addition, finding a new operator for troubled or failing facilities is a difficult as well as an expensive process, hence the importance of the financial health and quality of OHI's operators. Something that has recently been a cloud over the company's otherwise attractive prospects.
After taking into consideration the effect of Orianna, the dividend payout ratios have been forecasted to be 81% of adjusted FFO and 91% of FAD. In its guidance statement, OHI has tightened its adjusted FFO guidance to a range of $3.03 to $3.06 per share. The REIT's FAD guidance has been adjusted to a range of $2.67 to $2.74 per share.
In the first two quarters of 2018, OHI sold 64 facilities for a total amount of $311 million. The bulk of OHI's asset sales is complete and the sold assets do not include the Orianna facilities that are scheduled for transition. The REIT's robust sales reflect the continued demand for SNF assets by local market private buyers, which has enabled the company to unload assets at a reasonable rate.
The REIT believes that it will be successful in restructuring its portfolio and deploying the sales proceeds to high-quality assets for business growth. In Q2 2018 earnings call, management has expressed its confidence in selling or transitioning the remaining Orianna assets. While acknowledging near-term labor cost pressures, OHI management has expressed optimism due to improving demographics, increasing demand and a new reimbursement model that will be introduced in October 2019.
The New Model
CMS's new reimbursement model will replace the existing SNF case-mix methodology with a new system that is termed as the Patient-Driven Payment Model (PDPM). Under the new system, payments will depend on resident's classification amongst 5 service components, namely physical therapy, occupational therapy, speech-language pathology, nursing, and 'non-therapy ancillary services'. A resident's total per diem rate will be calculated by taking into consideration the payment calculations for each component. CMS believes the new model will save money and reduce administrative expenses. The payments to SNFs will also increase by 2.4% or $850 million. Additionally, the reporting window for the public display of SNF outcome measures would be expanded from 1 to 2 years. The new system will come into effect on October 1, 2019. It will be interesting to see what happens from now until then.
Our Take
By the company's own admission, the next 12-24 months remain challenging. For investors, however, it's hard to ignore an 8.1% dividend yield from a company that historically has navigated the complex healthcare world pretty well.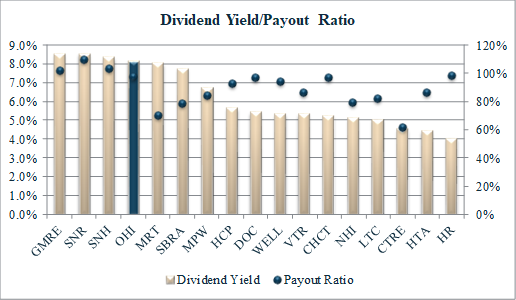 Source: Image created by author with data from company SEC filings
It is also trading at a considerable discount to peers in the healthcare sub-sector at a P/AFFO of just 11.7.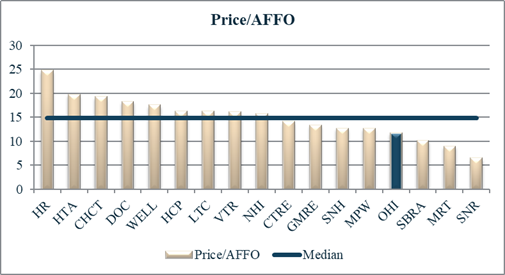 Source: Image created by author with data from company SEC filings
In my opinion, this is a stock for someone with a higher appetite for risk which may eventually pay off in the form of higher returns. For the faint of heart and those that watch their positions closely for the slightest bit of bad news, this is not for you. The company still has too many issues around Orianna, which if isolated, may have been more palatable. But the fact that the Orianna troubles come on the back of other operator challenges gives us pause. This stock lands squarely in our Sell bucket with an intent focus on a catalyst that will change operational risks and investor perceptions.
If you liked this article, don't forget to click on the Follow button at the top of the page.
To read more of my articles on Seeking Alpha, click HERE
Recent Posts in REITs, Opportunities, & Income
Update On Kimco After The Washington REIT Report
Don't Let The Increase In New Home Sales Fool You
Ventas: 10% Upside And 5% Dividend Yield
Disclaimer: Please note, this article is meant to identify an idea for further research and analysis and should not be taken as a recommendation to invest. It is intended only to provide information to interested parties. Readers should carefully consider their own investment objectives, risk tolerance, time horizon, tax situation, liquidity needs, and concentration levels, or contact their advisor to determine if any ideas presented here are appropriate for their unique circumstances.
Past performance is not an indicator of future performance.
Investing in any security has risks and readers should ensure they understand these risks before investing.
Real Estate Investment Trusts are subject to decreases in value, adverse economic conditions, overbuilding, competition, fluctuations in rental income, and fluctuations in property taxes and operating expenses.
This post is illustrative and educational and is not a specific offer of products or services.
Information on this blog is not an offer to buy or sell, or a solicitation of any offer to buy or sell the securities mentioned herein, nor is the author compensated by any of the products mentioned.
Information presented is believed to be factual and up-to-date, but we do not guarantee its accuracy and it should not be regarded as a complete analysis of the topics or subjects discussed.
Information presented is not believed to be exhaustive nor are all the risks associated with the topic of each article explicitly mentioned. Readers are cautioned to perform their own analysis or seek the advice of their financial advisor before making any investment decisions based on this information.
Investment decisions should be based on an individual's own goals, time horizon, and tolerance for risk. Nothing in this content should be considered to be legal or tax advice and you are encouraged to consult your own lawyer, accountant, or other advisors before making any financial decision.
All expressions of opinion reflect the judgment of the author, which does not assume any duty to update any of the information
Any positive comments made by others should not be construed as an endorsement of the author's abilities to act as an investment advisor.

REITs, Opportunities, & Income ((ROI)): High potential ROI investment ideas for your portfolio
While much of our coverage is focused on REITs, we also provide in-depth research on little-known small-caps, macroeconomic analysis, and income opportunities. I also share details on a concentrated REIT portfolio designed to outperform the MSCI US REIT Index with lower volatility. Start a free trial now.
Disclosure: I am/we are long OHI.
I wrote this article myself, and it expresses my own opinions. I am not receiving compensation for it (other than from Seeking Alpha). I have no business relationship with any company whose stock is mentioned in this article.