After the bell on Wednesday, Tesla (TSLA) reported its first quarter results, detailed in this investor letter. The overall numbers were mostly in line with reduced expectations after the quarterly production and delivery miss, and there were some strange statements made on the conference call. In the end, however, it was news totally unrelated to the earnings report that may end up being Tesla's biggest problem.
Overall results:
Overall, the company came in at $3.41 billion in revenues. That's a little above the $3.365 billion I discussed in my preview article, because I was not expecting any ZEV credits in the quarter after large sales in Q4, so Tesla's $50 million sold in Q1 puts my number basically dead on otherwise. At a 100% margin, those credits equal about 30 cents in EPS, and Tesla was 55 cents ahead of my GAAP number, although only 39 cents on a non-GAAP basis. Tesla beat the Street expectation, but again, this is likely due to the credit sales. It also doesn't hurt that estimates plunged into the report, with yearly numbers being at their lowest point as seen below.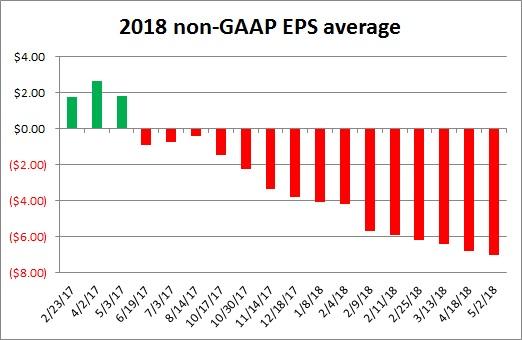 (Source: Yahoo! Finance analyst estimates page)
Automotive gross margins came in ahead of Street estimates – a 19.7% GAAP figure, and Model S/X margins improved as expected. But we should also look at how bad the "service and other" segment did. Let me just remind you of the statements management made on the Q4 2017 investor letter about this area:
Service and Other gross loss increased to $89 million due to the significant growth of our service network in Q4 that has not been fully utilized yet as the Model 3 production ramp works to catch up, reserves for settlements with former customers of Grohmann and a one-time warranty true-up for used car sales.

Service and Other gross margin should improve in each subsequent quarter in 2018.
With all of those one-time items, the situation should have improved, right? Well, Tesla actually reported an extra nearly $4.5 million in costs for the segment, despite almost $25 million less in revenues. On its own, the service and other segment went a negative 30.75% gross margin to a negative 44.63%. If we add automotive, leasing, and services/other together, Tesla's overall gross margin actually declined from 14.13% in Q4 to 14.07 in Q1.
On the cash flow front, Tesla did not provide a free cash flow table in the investor letter. Perhaps that's because they burned through $1.05 billion in cash during the period. Management partially blamed a rise in accounts receivable and inventory in transit for some of the burn ($290 million), but they also failed to mention that accounts payable and accrued liabilities also jumped by $380 million! Tesla's bills are rising still, and working capital is now more than $2 billion in the hole as seen below. Dollar values in thousands.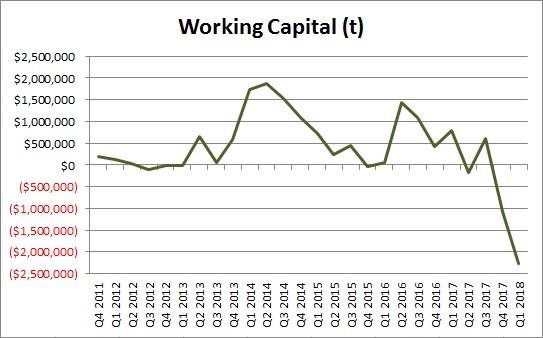 (Source: Tesla quarterly filings and Q1 2018 letter)
However, let's look at things a different way, subtracting out deferred revenue and customer deposits, since they likely won't be completely "paid back" in the next year. Taking those two out would have put Tesla's working capital at a positive $765 million at the end of Q4, but now it is at a negative $745 million! Overall, Tesla is under $2.7 billion in total cash, although in the investor letter – the supplemental cash information page – Tesla strangely added restricted cash in to make the balance look better.
Management still is calling for approximately 5,000 units of Model 3 per week in "about two months," but many remain skeptical. Tesla has not yet hit one of its Model 3 end of quarter targets, and even said that after a few weeks of April, it was only at 2,270 per week, nearly 10% below its end of Q1 target. If Tesla can't find enough qualified labor, something I discussed in my most recent article, it likely will fall short of its goal for the end of June.
It was very interesting that the investor letter contained zero references to the Model Y, Tesla Semi, or Roadster. Given how these products are so important to the future, you would have expected some discussion. Additionally, Tesla did not provide any calculation of adjusted EBITDA. This metric is important because it is one of the main items involved in Elon Musk's new massive pay plan, so investors should be given this information.
The strange conference call and its key takeaways:
I've listened to a number of Tesla calls, but this one was the weirdest. Musk went on his usual tangents, this time bringing up "flufferbots" and barnacles. He also swatted away the Street as well, cutting off multiple analysts in favor of a Tesla fan who got to ask several questions. As you can see in the chart below, shares tanked as the call dragged on.

(Source: cnbc.com)
The first key takeaway is about the Model 3 margin. In the investor letter, the company went from "target" to "long-term target" of 25%, saying in the medium term it will be less than expected. Previously, management was saying it could get to 25% shortly thereafter hitting 5,000 units of production per week, but now Musk is hoping to be around 20% by the end of the year.
He said that 3% or 5% isn't that meaningful, but it is in terms of a 25% target it is quite significant, when that 5% is $50 million of gross profit for every $1 billion in Model 3 revenues. If we go back to the original 5,000 a week plan, Tesla is now basically delaying its 25% target by a full year.
Management also seemed to try to hedge a little on its statements about GAAP income and positive cash flow in the second half of the year. Perhaps they don't want to add to their failures list in this respect. I also think it is possible that some of that positive cash flow could be as a result of opening the Model Y deposit book, even though management said that vehicle isn't coming until 2020.
Elon also stated we'd have more news on new factories later this year, but he also said the same thing almost exactly one year ago. Without any factory news in the near term, plus the reduction in all non-necessary capex, those hoping for the Semi/Roadster/Model Y to come in 2019 are going to be very disappointed, especially based on auto timeline questions.
Perhaps the worst news:
Late Wednesday afternoon, there was a major Tesla headline that likely did not get much attention. It has to go with a statistic the company has been celebrating for years surrounding Autopilot and the Autosteer function. In a recent blog post about a fatal crash, Tesla said the following, a statement we've heard many times from the company in the past:
Over a year ago, our first iteration of Autopilot was found by the U.S. government to reduce crash rates by as much as 40%.
There has been a lot of debate over this statement since Tesla first made it, but we got an official response on Wednesday from the government:
The U.S. National Highway Traffic Safety said Wednesday that a prior investigation into Tesla Inc's semi-autonomous "Autopilot" self-driving system did not assess the "effectiveness" of the technology.

NHTSA said Wednesday that its crash rate comparison "did not evaluate whether Autosteer was engaged." The agency added that it "performed this cursory comparison of the rates before and after installation of the feature to determine whether models equipped with Autosteer were associated with higher crash rates, which could have indicated that further investigation was necessary."
Perhaps the strangest thing about this is that on the conference call, Musk attacked journalists for reporting incorrect information about Tesla's safety. Well, the company should be looking in the mirror, because it has been using this data for a while. This is the same Autopilot that was supposed to help power a coast to coast drive by the end of 2017 (which hasn't happened yet), and the Tesla Network that we were supposed to hear about last year.
On today's call, Musk reiterated some information about the Network we already know, but did say it could launch in late 2019. A huge part of Tesla analyst Adam Jonas' valuation for the company is based on this premise.
Tesla did not initially provide a comment on the news, but I'm sure there will be some spin from the company. Being that Autopilot is supposed to be one of the main pillars of Tesla's software "advantage," this statistic has been marketed almost as if it was the holy grail. It will be interesting to see if there are any legal ramifications in lawsuits related to Autopilot given this news.
Final thoughts:
In the end, Wednesday should not be viewed as a good day for Tesla, in fact quite the opposite. Another massive loss was reported along with a billion plus cash burn, and Tesla did push back some of its targets for things like Model 3 margins. The conference call was a fiasco, and if Tesla can't get to 5,000 vehicles a week on the Model 3 soon, it will need more cash as it continues to further spend like a drunken sailor. I'll leave you with this wonderful chart.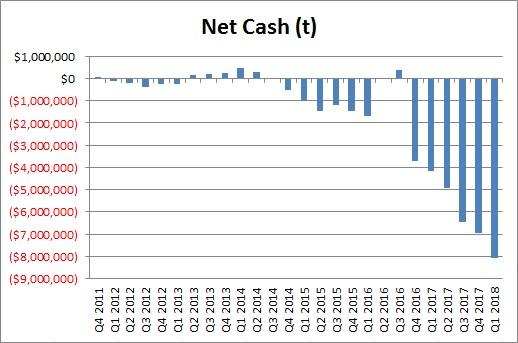 (Source: Tesla quarterly filings and Q1 2018 letter)
Disclosure: I/we have no positions in any stocks mentioned, and no plans to initiate any positions within the next 72 hours.
I wrote this article myself, and it expresses my own opinions. I am not receiving compensation for it (other than from Seeking Alpha). I have no business relationship with any company whose stock is mentioned in this article.
Additional disclosure: Investors are always reminded that before making any investment, you should do your own proper due diligence on any name directly or indirectly mentioned in this article. Investors should also consider seeking advice from a broker or financial adviser before making any investment decisions. Any material in this article should be considered general information, and not relied on as a formal investment recommendation.
Related Posts: