Warning
: mysqli_num_fields() expects parameter 1 to be mysqli_result, boolean given in
/home/busines2/public_html/wp-includes/wp-db.php
on line
3182
Warren Buffett changed his mind in 2016 about the airline industry, so this is a data point that should be taken seriously. The dynamics of the industry have changed through consolidation over the past two decades. Roughly 80% of the capacity is now controlled by the four major airlines. I even had a negative bias toward them as they were capital-intensive with one major operating cost that is volatile (fuel cost). The narrative and operations have changed though, making the industry more attractive. One airline in particular that I'm interested in, as it has moat-like characteristics, is Alaska Air Group (ALK).
Alaska Air price has roughly dropped 37% from its high of $97 per share in March 2017. That's a big swing in one year indicating that an opportunity could be present. It appears much of the negativity has already been ingrained into the valuation of the business, from my perspective.
What makes Alaska Air special?
Well first off, I don't think there will be any new major airlines created in the U.S. market anytime soon. Barriers to entry appear to be extremely high. Not only is the amount of capital it would take to just start an airline a barrier, but getting rights to service any major cities would be impossible as major carriers have created monopoly-like characteristics in certain areas. In addition, major airplane manufacturers like Boeing (BA) are still working through backlog orders, so getting any planes would be difficult. All of these external factors allow the industry as a whole to benefit from very unlikely new competition coming into the space.
Alaska Air has created an attractive culture, competitive on pricing and has the historical results to prove their model is working. Return on invested capital has been much higher than its weighted average cost of capital over the years. Running at (>15%) over the last four years shows economic profits are being captured.
Exhibit 1: Historical ROIC (Millions)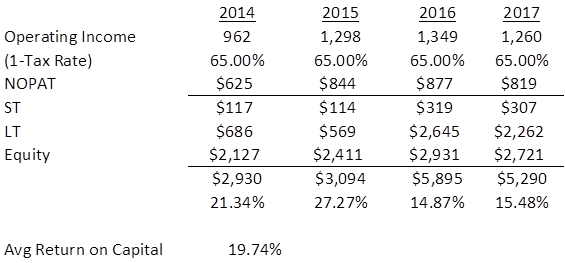 Source: Gurufocus, Author's Work
As these high returns are occurring, is there any way new competition can come in and eat away at it? I think not for reasons stated above. Some investors might think, well what about fuel cost? Yes, this is a commodity that could change operating cost a bit, and as value investors we don't like unpredictable costs being a line item on the profit and loss statement. I would argue, though, just by using some basic analysis it's not as unpredictable as it might seem. We can get a good base rate for a bear case scenario if oil costs do increase.
Exhibit 2: Fuel Cost Analysis (Millions)

Source: Company Reports, Author's Work, Statista
Back in 2014, fuel costs were 32% of operating expense – still the company had a 21% ROIC. It appears investors can expect fuel cost to range from 20% to 35% of total operating expenses for Alaska Air, and maintain attractive profitability.
Hidden Gem
Not much is ever highlighted on the customer loyalty programs, basically the airline credit cards that customers use for travel miles. This program is becoming a meaningful part of doing business, and is what attracted me to this industry in the first place. As airline customers have been the driving factor behind card usage (consumers love to rack up travel miles), airlines have used their leverage to negotiate better contract terms in receiving a larger share of the fees. Alaska Air's partnership is with Bank of America (NYSE:BAC). It is estimated this revenue stream generates 40-50% margins. In addition, the segment isn't tied to the airline economy, providing downside protection as the credit-card revenue streams are generated on everyday purchasing habits of the cardholder. This business is much more valuable than the capital-intensive nature of the airline operations. Separating the two doesn't make sense, though, as they both rely on each other. That doesn't mean valuing this segment should be the same as the airline operations.
Exhibit 3: Frequent flyer Revenues (Millions)

Source: Company Reports
Alaska Air credit-card revenue stream has compounded at 20%, with a high profitability profile. This segment sounds very valuable to me. Assuming multiple scenarios of valuing this segment, I don't see how this part of the business doesn't make up at least 90% of the market cap. Yes, the multiple could be considered high, but this is a stable business collecting fees on credit card transactions similar to Visa (V).
Exhibit 4: Fair Value Estimate of the credit card business (Millions)

Source: Author's Work
Basically, investors get the airline operation for free at the current valuation of ALK. When backing out the mid-point valuation above, the airline operations would have generated $588 million in profit for 2017. Using a reasonable multiple of 8x, gives another $4.7 billion in fair value.
Exhibit 5: Total Fair Value Estimate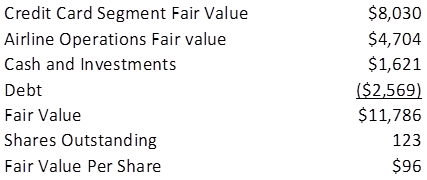 Source: Company Reports, Author's Work
Concluding Thoughts
With major drawdowns this past year in the airline industry, an opportunity has come to be. Investors still appear to give no credit to the quality of the credit business. Along with that, consolidation over the years has made industry dynamics much better. Share count has been reduced by 11% over the years. Tons of positive data points.
The one aspect that I don't like is Alaska Air doesn't have the option to really spin off the credit card business. This segment is so entangled with the airline operations, I don't see how it could be a separate organization. This option would have provided optionality for a catalyst to drive the value. Greater disclosures could be an alternative to this, but information has been scarce for a while. There is clear value in Alaska Air, what is unclear is what will be the catalyst to bring out that value.
To read more research on stock spin-offs, micro-mid cap companies, and special situations please consider following me (by clicking the "Follow" button at the top of this article next to my name) to receive notification when I publish research next.
Disclosure: I/we have no positions in any stocks mentioned, but may initiate a long position in ALK over the next 72 hours.
I wrote this article myself, and it expresses my own opinions. I am not receiving compensation for it (other than from Seeking Alpha). I have no business relationship with any company whose stock is mentioned in this article.
Additional disclosure: This article is intended to provide information to interested parties. As I have no knowledge of individual investor circumstances, goals and/or portfolio concentration or diversification, readers are expected to complete their own due diligence before purchasing any stocks mentioned.
Related Posts: